Find a HSE Test Center Near You
Results for current search:
Testing Center
Upcoming Testing Dates & Times
Rockland BOCES - Adult Education
Test Center Code: 124
Nyack, New York

Action for a Better Community
Test Center Code: 166
Rochester, New York

Adirondack Education Center BOCES
Test Center Code: 393
Saranac Lake, New York

Batavia BOCES
Test Center Code:
Batavia, New York

There are no available dates at this time

Bath-Haverling High School
Test Center Code: 408
Bath, New York

There are no available dates at this time

Best Resource Center, Inc.
Test Center Code: 072
Newburgh, New York

Bronx Adult Learning Center
Test Center Code: 185
Bronx, New York

Brooklyn College Adult Literacy Program
Test Center Code: 055
Brooklyn, New York

Broome-Tioga BOCES
Test Center Code: 130
Johnson City, New York

Buffalo Educational Opportunity Center (EOC)
Test Center Code: 070
Buffalo, New York
Pages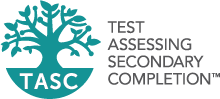 The TASC™ is a High School Equivalency (HSE) national examination developed by DRC/CTB and is jointly administered by DRC/CTB and the New York State Education Department.
Who Takes TASC™?
The test is available to adults who did not graduate from high school or whose diplomas may not be recognized by New York State.
Taking the Test
There are five tests in the TASC™ test battery:
Reading
Writing
Social Studies
Science
Mathematics
The tests take approximately nine hours to complete and include a direct writing assessment.
What Languages are Available?
In New York State, the TASC™ is offered in English and Spanish. When candidates pass the TASC™ test in Spanish in New York State, they receive a high school equivalency diploma with a designation of Spanish.
Find a HSE Preparation Program