Find a HSE Test Center Near You
To Schedule a High School Equivalency Exam:
Use this webpage to select a Test Center and a testing date;
Print out the Application A – Application For TASC™ Testing;
Mail your completed Attachment A to the to the Test Center where you plan to test; and,
Be sure that you are eligible to take the HSE exam in New York State.
Computer-based or Paper-based TASC testing?
In New York State, all HSE exams are administered at official test centers.
When scheduling to take the TASC test, you will need to decide whether to take the test on a computer or on paper.
One big advantage of computer-based testing (CBT) is that you do not need to wait for the time to expire for each subtest before moving on to the next subtest.
Scoring of most of the CBT exam is faster. Except for the Essay, you can view your unofficial CBT test scores on the DRC portal within one or two days. However, the processing and mailing of your diploma or transcript takes approximately 8-10 weeks after testing has occurred.
Learn about the many advantages and try out TASC computer-based testing by going to the TASC Test Online Tools Training.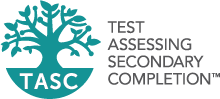 The TASC™ is a High School Equivalency (HSE) national examination developed by Data Recognition Corportation (DRC) and is jointly administered by DRC and the New York State Education Department.