This report allows you to review, in chronological order, all Reprints of Case Notes, Financial Need Calculations, IPE's and Service Summaries for a case. This feature should greatly facilitate case and supervisory reviews, due process hearings and case transfers. The report is found off the Case Process menu towards the bottom of the list. The report can be viewed and/or printed. The Reprints can be filtered by type to retrieve just the Case Note Reprint documents, or just the IPE Reprint documents, etc. Various print options exist including: Print All, Print Selected, number of copies and "collate" (the default is not collated).
This report will allow you to print more than one Case Note Reprint, or other Reprint, at a time, thereby saving time by not having to go into each Reprint to print it.
The Reprint Report window is resizable.
The Reprint Report is found on the Case Process Menu: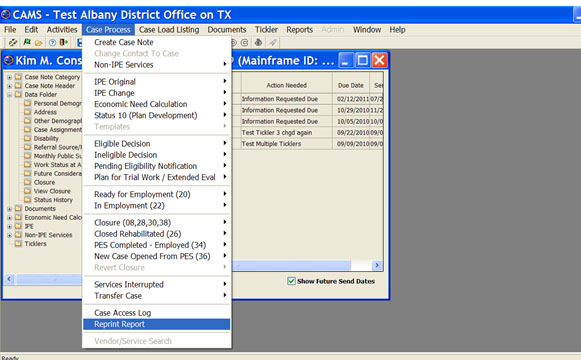 Reprint Report with All type Reprints displayed: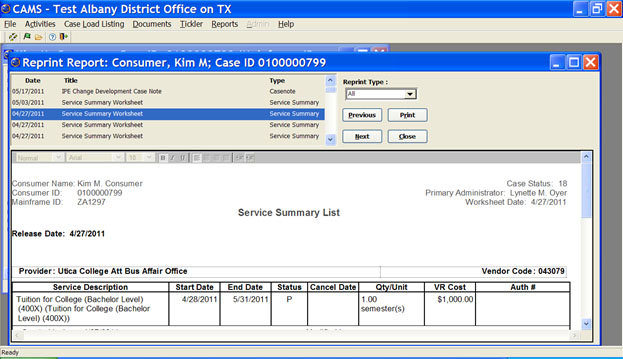 Reprint Report Filtered by 'Casenote':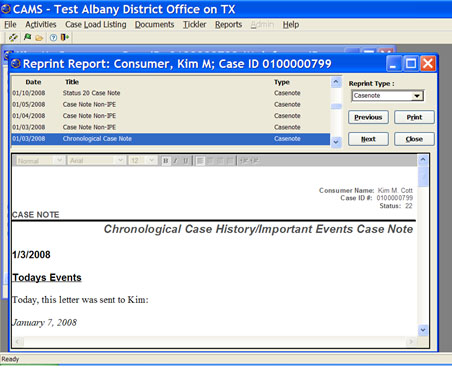 Reprint Report Print Screen: