Gerritt..."This Cook Won't Spoil the Broth!"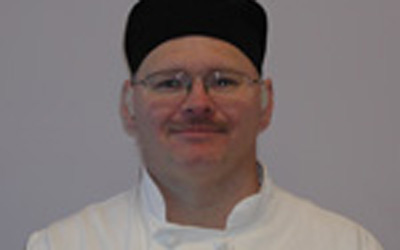 Gerritt does not remember how he first heard about ACCES-VR services, but he does remember that this Mother helped him with the paperwork due to his learning disability. When he applied for services, he very much wanted to go to work and expressed some interest in food service. Gerritt met with his ACCES-VR Vocational Rehabilitation Counselor (VRC) and together they determined that Gerritt would benefit most from Supported Employment services (Supported Employment is paid competitive employment in an integrated setting with ongoing support for individuals with the most severe disabilities, who need on going supports to maintain their job.). ACCES-VR referred Gerritt to ARC of Oneida Lewis counties for these services and paid for those services.
After a job search, Gerritt was hired as a dishwasher, at the Turning Stone Resort and Casino in Verona, NY. Gerritt proved to be an excellent employee and after working at the Turning Stone for about 6 months, he received his first promotion and began working as a pantry cook. A job coach from ARC of Oneida, was always available to assist him if necessary. Since working at the Turning Stone for over 14 years, Gerritt has continued to be promoted and is current a senior line cook.
Gerritt loves cooking and can make a large variety of foods. He has assisted at the Turning Stone's many restaurants and is currently working in the Employee's Cafeteria. Gerritt thoroughly enjoys working for the Turning Stone, and obtained his driver's license after starting employment there. Coming to work, even in winter weather, his attendance and punctuality have been excellent.
Carol Ginster, IES I
Utica District Office