Marge Tierney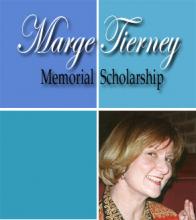 Marge Tierney's 33 year professional career centered around the vocational rehabilitation of individuals with disabilities ensuring that they received the services needed to obtain employment. Upon graduation from the University of Connecticut in Storrs with a MA degree in Rehabilitation Counseling, Marge began as a Rehabilitation Counselor with the then Department of Social Services Commission for the Blind and Visually Handicapped. She was later promoted to Senior Counselor.
In 1978, she joined the staff of the State Education Department, Office of Vocational Rehabilitation (OVR) where she served as the Downstate Coordinator. Marge continued her service to the rehabilitation community when she became a member of the Transition Team for the Office of Vocational and Educational Services for Individuals with Disabilities (VESID) assuming the responsibilities of the Coordinator of Vocational Rehabilitation for Quality Assurance. In 1999, Marge became the Director of the VESID (now ACCES-VR) District Office local Administration Unit.
Marge's commitment to individuals with disabilities was evident in her willingness to take on new and challenging projects that would enhance employment opportunities such as local implementation of the Welfare-to-Work Reform Act and the Workforce Investment Act. She was largely responsible for forging the relationship with the New York City Human Resources Administration, which lead to the creation of the PRIDE program.
Marge was a consummate professional who understood the importance of maintaining a strong working relationship with ACCES-VR's (formerly VESID) community and State partners and sought input from stakeholders on critical issues. She respected and valued the work of staff and worked tirelessly to ensure that needed supports were available to assist them in performing their jobs.