Melissa... Jumping through Hoops of Success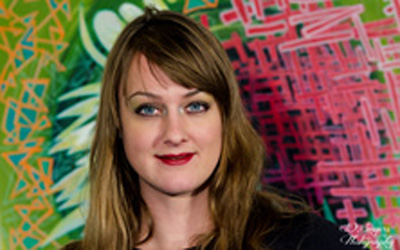 Melissa is a highly motivated individual who is passionate and hard working. On the outside, she is an outgoing, happy, positive person but on the inside, she struggles each day to function. She has dealt with mental illness since a young age and has tried many resources and techniques for overcoming her disabilities. What was once described by her as a condition that "needed to be controlled by heavy medication to suppress her personality and diminish the gifts she was given" she now sees as, "the attributes of entrepreneurs and game changers, and not as disabilities." She knew she could not thrive in the traditional, institutionalized, cubicle type of work environment so she opened her own shop with literally no capitol and no business training. She knew she had to find a way to survive and wouldn't let this become another manic episode. She started going to Butler Clinic where she met Pam Blake at the Office of Mental Health who helped initiate her track of success and connection with ACCES-VR. ACCES-VR was instrumental in assisting Melissa toward her entrepreneurial goals. ACCES-VR provided Melissa with guidance and financial support to expand her business. Melissa came to ACCES-VR in 2012 with a double Bachelor's degree in Fine Arts and Psychology from SUNY Buffalo. Melissa had already been running and operating Filigrees Gallery for 2 years and has a great location in the artsy area of the Elmwood Village. She was maintaining the space but had no tools to move forward. She and Melissa Jackson, her ACCES-VR counselor, designed a Self -Employment plan that would help Filigrees become more competitive. Through the development of a website, branding identity, the purchase of computer equipment and software training, ACESS –VR was able to assist Melissa in upgrading her business which now features items made locally in every kind of medium, painting, prints, jewelry, wearable art, sculpture, and Ultra Hoops. Ultra hoops are handmade hula hoops designed for fitness for adults. Unlike the hoop craze of the 1950's marketed to kids as toys, her hoops are larger and heavier to allow for an effective workout. She has developed a program to teach classes and workshops bringing in her certifications in yoga and qigong. Melissa has appeared on many local TV News programs, and worked with local health care providers like Blue Cross/Blue Shield of WNY to increase exposure and get more people into this fun way of getting fit. She organized the first ever 'Hoopthon' that brought together 'hoopers' of all ages for a fun competition while raising money for the Center for Personalized Medicine at Roswell Park Cancer Institute. Her next move is to develop a model for recovery through her example of hooping for health, her education in psychology, her experience as a long time patient in the system, and her real life experiences in business. She is building a variety of health and wellness workshops including interactive demos and educational lectures to enhance the mental health of others.
"Hooping has brought a lot to my personal recovery because it has so many benefits beyond losing weight and trimming your waist. Hooping helps to improve your mood, and feel success through learning new moves; its tough not to feel good and smile while doing it." says Melissa. She aims to bring this therapeutic activity to the mainstream disguised as a fun recreation that is beneficial to everyone who tries it. She has applied for a patent for a hoop that contains a technology element and plans to make the hoop the next big fitness craze.
Among her other accomplishments are Publicity Director for Subversive Theatre, and a promoter and organizer for the Buffalo Infringement Festival. In 2013, she won a scholarship to attend the BALLE Conference (Business Alliance for Local Living Economies) She has completed Entrepreneurship in the Arts program through the Buffalo State Small Business Development Center (SBDC). Melissa graduated from the Allstate Minority and Women Emerging Entrepreneurs (MWEE) Program through the UB School of Management's Center for Entrepreneurial Leadership and the UB Center for Urban Studies. Her next pursuit is becoming certified as a Women-owned Business Enterprise (WBE) in state and county levels. Through short and long-term goal setting and the path from ACESS-VR, Melissa has achieved many positive outcomes making the future a wonderful place with a path of success.
Dennis Martinez
Regional Coordinator for Business Relations, ACCES-VR