Alaina… Gaining New confidence in her job!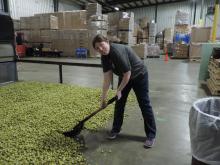 Alaina was referred to ACCES-VR by her high school guidance counselor. She has hearing loss in both ears. Alaina has difficulty hearing when background noise is present. Alaina has a learning disability which impacts her math reasoning and written expression skills. She also becomes anxious in large groups of people.
Following graduation from high school, Alaina completed some Liberal Arts coursework at both SUNY Broome and SUNY Morrisville, but did not obtain a degree. As Alaina found the college experience overwhelming, she decided to obtain assistance from ACCES-VR to find employment.
Alaina's Vocational Rehabilitation Counselor, April Brown, referred her to the Arc Otsego for work assessments, placement assistance and job coaching services. The Arc Otsego assisted Alaina with obtaining employment as a part-time warehouse assistant for Northern Eagle Beverages, Inc., where she began working in November of 2016.  ACCES-VR provided a Work Try-Out wage reimbursement program to the employer for Alaina's initial few weeks in the position.
The Northern Eagle staff was committed to making Alaina's onboarding experience positive.  Northern Eagle staff purchased protective ear protectors that would work with Alaina's cochlear implant and fit her properly. The company has since provided simple accommodations to Alaina, including scheduling hours to accommodate her transportation, welcoming Arc Otsego Job Coaches on-site to follow her progress, troubleshoot where needed, and providing support to ensure her success.
As warehouse assistant, Alaina is responsible for a variety of duties including cleaning the warehouse, packaging sample packs, discarding of old beverages, sorting glass bottles, and shoveling hops. The facility has a small staff, which suits Alaina well. Much of the time she works independently, moving from task to task as needed. To assist her with this, her supervisor put up a dry erase board, on which he puts each day's duties for the week. This enables her to know what is next in the event there is no supervisor nearby to ask.
Alaina's supervisor states that she has a strong work ethic, and can perform multiple tasks. She has blossomed in her job. She was instrumental in getting Northern Eagle's new redemption center operational.  Alaina indicates she enjoys working at Northern Eagle very much and is interested in expanding her hours. She is not just a worker, but made to feel like part of a family and part of the business' growing success.
ACCES-VR's assistance provided an opportunity for Alaina to find a position that is a great fit for her and offers opportunities for the future.
This story was submitted by Dorothy Marinaccio
Regional Workforce Development and Business Relations Coordinator
Southern Tier District Office
607-721-8375
Dorothy.Marinaccio@nysed.gov