Alison... Where There's a Whisk, There's a Way!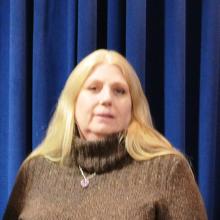 Nestled in Elmira, New York and owned and operated by Alison, Toot's Treats is a dessert company specializing in catering events with decadent bite size desserts, yummy cookies, luscious filled cupcakes and fabulous favors.
Alison's journey to entrepreneurship began in 2014, when she incurred a disabling condition and she found herself in search of a way to provide additional income to help support her family.  She believed she would have difficulty working due to limited stamina which resulted in her needing to take frequent breaks during physically-demanding activities.
Alison asked herself what did she like to do and what was she passionate about.  Her answer: creating desserts and cookies to make her friends and family feel special.  She subsequently sought assistance from her Vocational Rehabilitation Counselor Suzanne Roehn to develop a business plan.   ACCES-VR provided support to convert a spare bedroom in her home into a bakery kitchen.  Alison was also able to establish a website and Facebook page for her business using the computer laptop purchased by ACCES-VR.
Officially opening in 2017, Toot's Treats is on schedule to close the year with $20,000 in sales.  In her own words, Alison says, "ACCES-VR has given me that portion of my life back.  I feel freer to create the life that I truly want.  I am engaged in my community, making connections with the world and have been able to share my story with others who in having a disability feel their freedom, slowly slipping away.  My actions and my company, Toot's Treats, are testimony that just because you cannot do what you used to do, it does not mean that you cannot begin something new."
In acknowledgement of her wonderful achievement, Alison was recently honored with a Entrepreneur National Disability Employment Awareness Month (NDEAM) Statewide Recognition Award. 
This story was submitted by Dennis Martinez
Regional Workforce Development and Business Relations Coordinator
Buffalo District Office
716-848-8015
Dennis.Martinez@nyed.gov