Dylan... An Inspirational Professor
Occupation:
College English Professor/Author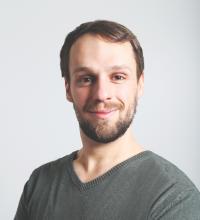 Dylan was referred to ACCES-VR in his senior year by Binghamton High School.  He was interested in sponsorship for college and financial assistance for a computer. Dylan remembers his first meeting with his ACCES-VR case manager, talking frankly about the challenges and opportunities for a college student with Asperger's. They settled on the exciting and yet intimidating career goals of first Foreign Language Translator and then College Professor.
Straight out of high school, Dylan's secondary education and employment were still ahead of him, his success far from a certainty. On the day Dylan was diagnosed with Asperger's, his mother was told by the diagnostician that she was "guardedly hopeful" he would lead a "semi-independent adult life." She was also told he was "classic Asperger's."  Dylan was six years old. Like so many individuals with High-Functioning Autism and other Autism Spectrum or Spectrum-like disabilities, Dylan reacted intensely to changes in routine and environmental sensory stimuli and struggled to grasp social cues. He also experienced what many refer to as a "narrow range of interests," which threatens to further isolate people with Asperger's.
Having a reliable support network of family, educators and friends meant that Dylan had the opportunity to translate his lifelong area of interest –  writing –  to a career path that made sense considering his strengths and limitations.  Dylan's transition into college was made much more manageable by ACCES-VR, which provided financial support which contributed to tuition, room and board, text books and transportation expenses. ACCES-VR also provided an assistive technology evaluation which recommended a Dell computer with MS Office for him. In addition, the vocational rehabilitation counselors in the Southern Tier and White Plains offices helped keep Dylan on track with continued guidance well after graduate school. Dylan studied creative writing at Ithaca College and graduated Magna Cum Laude with a 3.824 overall GPA.  Dylan went on to earn his MFA in Nonfiction Writing at Sarah Lawrence College. 
Upon completion of his degree, Dylan was referred to Search for Change in Valhalla NY for job placement services.  He also began tutoring at a local community college. He wrote a curriculum for some coursework for the college. He now teaches writing courses at this local community college, which brings him great joy.  His memoir, Living in Two Worlds: On Being a Social Chameleon with Asperger's was released in March 2016.  Dylan has also done consulting for organizations that provide services to individuals with disabilities.  He has worked as an Autism Advocate for an Independent Living Center in the Southern Tier and has worked as a consultant at an ARC in their Day Habilitation Department. Dylan looks forward to working with other organizations that may employ or give various opportunities to individuals on the spectrum.  He has a great interest in giving back to help those who are coming after him. Dylan gives workshops and trainings for parents, teachers and professionals in hopes of encouraging the success of others on the spectrum, a goal he shares with ACCES-VR and organizations like it.
This story was submitted by Michele Green
Local Workforce Development and Business Relations Representative
White Plains District Office
Michele.Green@nysed.gov