Jeff… His Dream Came True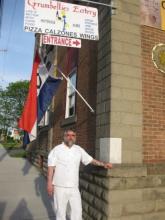 Ever since Jeff graduated in 1984 from the culinary program at Job Corps in Oneonta, his dream was to own his own eatery/deli. His dream was finally realized when he opened Grumbellies Eatery in Fort Ann, NY in July 2016. "Grumbellies" got its unusual name as it was a funny expression his wife's family had always used when their bellies grumbled when they were ready to eat.
Jeff came to ACCES-VR after being injured on the job as a delivery driver, resulting in permanent significant physical limitations.  Jeff had already moved forward with his dream to open Grumbellies as a deli eatery. His aunt had rented the building to him and Jeff was fortunate to be given many unused restaurant items and equipment from people he knew. He also had his family working alongside him.
Although the business was initially successful, Jeff realized that the business would do better with an expanded menu. He was seeking funding assistance to expand the business from a deli to a deli/pizzeria. ACCES-VR assisted with obtaining a pizza oven and related equipment.
After receiving the ACCES-VR-funded equipment and becoming a pizzeria, the business excelled. Things really took off when he added live country music and dancing one evening each week. Country music is part of Jeff's family as his father is a well-known, award-winning fiddler and Jeff plays guitar. On music night, area musicians come to play and the place is packed, so much so that a second music night has been added to the weekly calendar!  Grumbellies has become an eating, entertainment and social center in Fort Ann.  With growing interest from the community Jeff has continued to upgrade and expand his kitchen, and has even done some catering. He hopes to open another location in time and recruit qualified employees through ACCES-VR.
Jeff recently was honored with a 2017 National Disability Employment Awareness Month (NDEAM) Regional Award for Entrepreneur.  Jeff always knew he wanted to own his own eatery. His resourcefulness and creativity are remarkable and enviable. His resiliency and determination demonstrate what a person facing challenges resulting from disability can accomplish.
This story was submitted by Melissa Strauss
Vocational Rehabilitation Counselor
Albany District Office