Kenneth... A Career Pathway to Success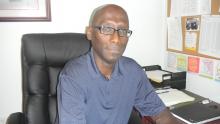 Ken was 19 years old when he was diagnosed with End Stage Renal Disease needing dialysis treatment 3 times a week. He also experienced Bi-Lateral hearing loss which required him to use hearing aids in both ears.
After graduating high school with a Regents diploma, Ken applied for ACCES-VR services and with our support he went on to college and earned an Associate's degree in Accounting. He held various office jobs to support his growing family.
Ken sought additional services through ACCES-VR in order to further develop his career. He completed a training program in which he obtained a PC certificate in 2002. He began employment at Quest Diagnostics that year and was employed for twelve years. Due to company downsizing, Ken was laid off and returned to ACCES-VR for help in updating his computer skills. He completed a Record Keeping/Bookkeeping program in April 2017.
The law firm of Rosicki, Rosicki, and Associates contacted ACCES-VR to recruit a qualified candidate and Ken was hired. He began his employment in April of 2017 as an IT Clerk. In just a short period of time he was promoted to Asset Manager and continues to grow within that department. His supervisor has stated that Ken's positive attitude and dedication to his work has made him a true asset to the company.
This story was submitted by Ella Craanen
Regional Workforce Development and Business Relations Coordinator
Garden City District Office
516-227-6804
Ella.Craanen@nysed.gov