Monique... Keep Calm and Speak up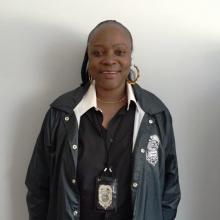 Monique owned and operated a construction remodeling business for five years before a fall from a rooftop resulted in an injury that prevented her from continuing in this field.  After receiving appropriate medical and rehabilitation treatment for her injury, Monique continued to have a desire to be gainfully employed and she subsequently applied for ACCES-VR services.  She and her Vocational Rehabilitation Counselor, Eric Locke, engaged in vocational counseling to identify her transferable skills and to develop an appropriate employment goal of Building Inspector.  Monique felt confident about this decision. This field related to her interest, knowledge and expertise of the building trades industry and allowed her to remain within her current physical abilities.  She was referred to a placement provider to update her resume, develop her interview skills and begin a job search.
In March of 2016, Monique was doing errands at her local city hall.  She decided to survey the posted civil service job openings and she located a posting for a Building Inspector.  She had a copy of her resume with her and completed the application on site.  She interviewed for the position and to her delight, she was notified that she had received a provisional appointment.
Monique's ACCES-VR counselor informed her that she might be made permanent under the 55-a program, which allows for the employment of qualified persons with disabilities by municipalities under the New York State Civil Service Law.  With great motivation, initiative and ambition, Monique spoke directly to the Commissioner of Permits and Inspection about her desire for a 55-a appointment.  Recognizing her talent as a Building Inspector, the decision was made to convert Monique's civil service title to a permanent employee using the 55- a provision.  Monique is an admirable example of fortitude and conviction in the face of what appears to be obstacles and hinderances.
This story was submitted by Dennis Martinez
Regional Workforce Development and Business Relations Coordinator
Buffalo District Office
716-848-8015
Dennis.Martinez@nyed.gov