Osman Hassan... Defining Diversity through Adversity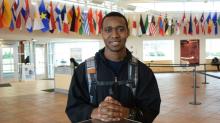 Osman came to the United States in 2004 in hopes of a better life. A native of Somalia, Osman and his family settled in Syracuse after fleeing his country as refugees. He enrolled in Syracuse City School District (SCSD) to begin his education. Osman needed support to excel in his new setting. He received special education services to address a Learning Disability and English as a Second Language (ESL) classes for his language barrier. He was very motivated in school, making academic strides while adjusting to a new culture and way of life.
In 2015 Osman's teacher and Transition Coordinator referred him ACCES-VR for transition services. He was attending the Onondaga Community College's (OCC) high school program, a campus partnership program between SCSD and OCC located at the college. Osman was able to learn in a small classroom setting to address his academic needs, while engaging in work experiences at the college. While participating in various job assignments on campus, he decided he liked custodial work. This hybrid of education and career exploration proved to be a success. His teacher reported that Osman became a role model for his peers because of his engaging smile, work ethic, determination and positive outlook.
While completing his senior year in high school in 2016, Osman was offered a full time custodial job at OCC. He was happy to accept the offer which provided a living wage and good benefits.
ACCES-VR provided job coaching to help him learn and master his tasks. ACCES-VR also provided driving lessons to allow Osman travel to work independently. These services supported his success in the workplace.  His supervisor reports, "We are grateful for Osman in what he adds to our team and he has become one of our 'go to' people if we want something done."  
Being employed has helped Osman reach many personal goals. His steady income enabled him to buy a car, move into his own apartment and obtain United States Citizenship.  Benefits of his employment include free tuition at OCC and participation in campus activities.  Osman is President of OCC's Muslim Club and active in community soccer.  He is a natural leader who has an interest in helping others like himself.  He continues to be a support for his proud family.  Osman's ACCES-VR Vocational Rehabilitation Counselor, Cathy Drake is inspired with  his efforts and success.    
This story was submitted by Barry Tatters
Local Workforce Development and Business Relations Representative
Syracuse District Office
315-428-4013
Barry.Tatters@nysed.gov