What is the HSE/TASC™ Test?
New York State has selected a new high school equivalency test called the Test Assessing Secondary Completion (TASC™) to replace the General Educational Development (GED®) as the primary pathway to a New York State High School Equivalency Diploma effective January 2, 2014. The TASC™ is a secure, reliable and valid instrument that is used to verify that examinees have knowledge in core content areas equivalent to that of graduating high school seniors.
There are five tests in the TASC™ test Battery:
Reading

Writing

Social Studies

Science

Mathematics 
The tests take approximately nine hours to complete and include a direct writing assessment. To ensure that the content and skills measured by the tests remain closely matched to contemporary high school curriculum, the tests undergo regular review.
TASC™ test results will be distributed approximately five to six weeks from the date of testing. Some results may take longer due to errors requiring manual reconciliation of records to insure accuracy.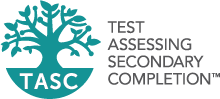 The TASC™ is a High School Equivalency (HSE) national examination developed by DRC/CTB and is jointly administered by DRC/CTB and the New York State Education Department.
Who Takes TASC™?
The test is available to adults who did not graduate from high school or whose diplomas may not be recognized by New York State.
What Languages are Available?
In New York State, the TASC™ is offered in English and Spanish. When candidates pass the TASC™ test in Spanish in New York State, they receive a high school equivalency diploma with a designation of Spanish.
What About GED®?
Grandfathering GED® test scores: A candidate may use up to four (4) passing GED® sub-tests (score of 410 or above) taken between 2002-2013 to count towards earning a New York State High School Equivalency Diploma. Each TASC™ sub-test that the candidate passes will be posted on the candidate's transcript. If the candidate does not pass the TASC™ sub-test but passed the same GED® sub-test, the GED® score will be accepted as a passing score. If a candidate has already passed all five (5) GED® sub-tests but did not attain the minimum total score of 2250, such candidate must pass at least one of the TASC™ sub-tests to obtain a New York State High School Equivalency Diploma.
Announcements
TASC Test Session Q&A
Thursday, September 29, 2016
The following document captures questions and answers from the Q&A portion of the TASC GHI Refresher Webinar (covering the transition to GHI, Insight, and Technical training) held on September 21 @ 10am EST.
Attachment:
TASC Training Session Q&A
HSE Curriculum Framework now available on EngageNY.org
Monday, September 12, 2016
The CUNY HSE Curriculum Framework assists adult education instructors in preparing students for the HSE Exam. Integrating the College and Career Readiness Standards, the Framework provides guidance for teaching content and skills to HSE students in ELA/Social Studies, Science and Math. It also includes classroom supports, college planning and career pathway connections, and professional development recommendations. For more information click here>>
TASC TEST Q&A
Monday, September 12, 2016
The following document addresses some of the most frequently asked questions about the TASC test, including form difficulty, field testing items, and passing scores.
Attachment:
TASC TEST GHI - Q&A
TASC TEST GHI Time Sensitive Announcement
Monday, September 12, 2016
The following document includes important information on the new "Go Live" release date for TASC GHI forms (September 26th, 2016), as well as other salient news for Test Centers.
Attachment:
TASC Test GHI Important News
DRC Insight Technical Training Recorded Webinar Available
Test Centers and technical coordinators that were unavailable to view a live webinar on the new Insight platform can view the recording here>> (44 minutes)
Computer-based Testing: Easier than You Thought
Examinees interested in taking the TASC™ test in computer-based test (CBT) format and New York TASC™ test Centers interested in becoming approved to administer the Test in CBT, view the following for information about the ease of CBT.
Online Tools Training:  The purpose of the Online Tools Training (OTT) is to become familiar with the online testing format and to practice using the tools available in CBT.  The OTT includes all types of questions (e.g. selected response, technology enhanced and constructed response) that will appear on the test, but it is not the same length as a full test.  The OTT items are not scored nor are correct answers provided.  Click here for more information. (NOTE: This can only be viewed in Google Chrome)
TASC™ Test Center Coordinators and Examiners: Webinars trainings are now available!
Thursday, August 18, 2016
DRC has scheduled a series of webinars for the release of forms GHI. Read more>>
New TASC Readiness Assessments (Paper and Computer Based)
In conjunction with the implementation of the G, H and I TASC™ test forms, Data Recognition Corporation (DRC) will release two new paper TASC Readiness Assessments, by the end of August. DRC will release two computer-based Readiness Assessments by the end of October.
TASC™ Test Math and Writing Subtest Brochures Available
The New York State Education Department (NYSED) has released a new brochure to help people practice math skills for the New York State High School Equivalency test. This brochure, titled the "Examinee Guide to the Test Assessing Secondary Completion™ TASC Test: Math Subtest" highlights some broad topic areas and provides examples of math content that may be on the test. Sample questions, search terms to help find study materials on the internet, and links to locate Preparation Programs and Testing Centers are included. The TASC™ Math Subtest brochure is available here>>
NYSED also has a brochure to help people understand some of the skills needed to pass the TASC™ Writing subtest.  Available in both English and Spanish.
TASC™ Test Item Specifications Explain Test Content
To guide preparation for the TASC ™ test, Data Recognition Corporation | CTB has released five Item Specifications documents (one for each subtest) for the TASC™ test. Each document is intended to define the content and format of the assessment for item writers and reviewers, while adult educators and the general public will gain a better understanding of the skills and concepts to be tested on the high school equivalency exam, as well as how they will be tested. Sample questions are included. TASC™ test Item Specifications are available at here >>
TASC Test Blueprints Now Available
Data Recognition Corporation | CTB is the publisher of the TASC Test Assessing Secondary Completion™ the high school equivalency (HSE) test used in New York State. They have released the TASC test blueprints for the current test series, DEF, and the next series, GHI, expected summer 2016.  Reviewing the test blueprint will help you to understand what is to be tested and it can inform instruction and learning expectations.  To see the blueprint, go the TASC test webpage. Check it frequently for other helpful HSE resources: http://www.tasctest.com/resources.html
Please note: The HSE Office in Albany is the only entity approved to issue high school equivalency diplomas in New York State. If diplomas and/or transcripts are obtained from a source other than the HSE Office, they are not legitimate documents. Candidates who possess them cannot use them for any academic or vocational purposes. (e.g. to obtain or upgrade a job, to enter a training program, to enlist in the United States Armed Forces, to enter into a post-secondary institution, college, or university, etc.).