What is the HSE/TASC™ Test?
New York State selected the Test Assessing Secondary Completion (TASC™) to replace the General Educational Development (GED®) as the primary pathway to a New York State High School Equivalency Diploma effective January 2, 2014. New York State will continue to use the TASC™ test for High School Equivalency testing for the years 2018-2020, with an option to extend the contract for the years 2021-2022. The TASC™ is a secure, reliable and valid instrument that is used to verify that examinees have knowledge in core content areas equivalent to that of graduating high school seniors.
There are five tests in the TASC™ test Battery:
Reading

Writing

Social Studies

Science

Mathematics 
The tests take approximately nine hours to complete and include a direct writing assessment. To ensure that the content and skills measured by the tests remain closely matched to contemporary high school curriculum, the tests undergo regular review.
TASC™ test results will be distributed approximately five to six weeks from the date of testing. Some results may take longer due to errors requiring manual reconciliation of records to ensure accuracy.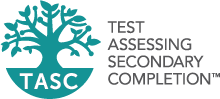 The TASC™ is a High School Equivalency (HSE) national examination developed by DRC/CTB and is jointly administered by DRC/CTB and the New York State Education Department.
Who Takes TASC™?
The test is available to adults who did not graduate from high school or whose diplomas may not be recognized by New York State.
What Languages are Available?
In New York State, the TASC™ is offered in English and Spanish. When candidates pass the TASC™ test in Spanish in New York State, they receive a high school equivalency diploma with a designation of Spanish.
What About GED®?
Grandfathering GED® test scores: A candidate may use up to four (4) passing GED® sub-tests (score of 410 or above) taken between 2002-2013 to count towards earning a New York State High School Equivalency Diploma. Each TASC™ sub-test that the candidate passes will be posted on the candidate's transcript. If the candidate does not pass the TASC™ sub-test but passed the same GED® sub-test, the GED® score will be accepted as a passing score. If a candidate has already passed all five (5) GED® sub-tests but did not attain the minimum total score of 2250, such candidate must pass at least one of the TASC™ sub-tests to obtain a New York State High School Equivalency Diploma.
Please note: The HSE Office in Albany is the only entity approved to issue high school equivalency diplomas in New York State. If diplomas and/or transcripts are obtained from a source other than the HSE Office, they are not legitimate documents. Candidates who possess them cannot use them for any academic or vocational purposes. (e.g. to obtain or upgrade a job, to enter a training program, to enlist in the United States Armed Forces, to enter into a post-secondary institution, college, or university, etc.).