Asia...Just Keep Trying!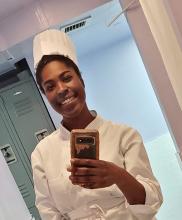 It hasn't been an easy journey for Asia T.
Asia's mom passed away when she was 2 years old. She moved from foster home to foster home until she was adopted at the age of 12. When Asia graduated from High School, her adoptive mother suggested that she apply to ACCES-VR. However, her fist application was not so successful, as she did not seem ready for vocational rehabilitation services.  Asia admitted that she wasn't very serious about her career and was not very motivated in finding employment at that time. She disclosed that she dropped out of college and moved to Virginia.
After a few months living in Virginia, Asia returned to NYC. To support herself, she found a job at a fast-food restaurant where she worked as a crew member for over 7 years.  She then decided to change her career and become a certified Home Health Aid (HHA).  She worked as a HHA for 3 years, until she realized that the only job-related task that she enjoyed, was cooking. Asia said she liked trying her hand at preparing authentic international dishes, following the recipes of the patients she cared for. She was frequently complimented on her culinary skills and her delicious cooking. 
Asia became inspired to follow her passion and pursue a career in culinary field. She investigated schools and was referred to ACCES-VR by Project Renewal in 2017 to receive assistance with obtaining Culinary Arts training and securing stable employment.  She applied with ACCES-VR and was assigned to vocational rehabilitation counselor Audrey Green, who worked with Asia one-on-one to help her develop her Individualized Plan for Employment. Asia passed a situational assessment at the culinary school and was supported by her counselor to pursue a career in culinary field.  Asia successfully completed ACCES-VR funded training at the Culinary Tech Center and was hired as a Cook/Pizza Cook in less than 3 months after her graduation.
2020 was a difficult year for many, including Asia.  She was laid off during COVID-19 closures. Asia lost her brother due to COVID and she was very nervous to return to the culinary field where there was a potential risk for her to be exposed to the disease.  She considered applying for SSI or even changing her career field completely.
Ms. Green provided her with support, guidance, and resources during these challenging times.  She shared job leads with her and sent her links to different training opportunities, in case she decided to permanently leave the culinary field.  Ms. Green also regularly reached out to check in on her progress.
In February 2021 Asia was re-hired with her former employer in the same culinary position that she held pre-pandemic.  Later, she secured a new employment at another restaurant as a Kitchen and Floor Manager.  The work experience she gained at her previous jobs propelled Asia to find even better employment as a Food Service Worker for the NYC Department of Education.  This position gives her the opportunity to utilize her culinary training and skills, and it offers job security and good benefits.  Asia disclosed that her ultimate long-term goal is to open her own business and she is currently investigating her options.
At ACCES-VR Asia received a host of vocational rehabilitation services that helped her prepare for, secure, retain, and regain employment, and her impressive motivation and hard work helped her grow her career rapidly.  She wanted to share her message for others who are just starting their vocational journey: "It was much of a struggle. But you have to keep going and keep trying".
Congratulations on your success, Asia!
This story was submitted by Kseniya Palishchuk
Local Workforce Development and Business Relations Representative
Brooklyn District Office
Kseniya.palishchuk@nysed.gov