Gerald…Never Give Up On Your Goal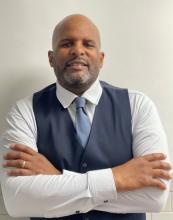 Gerald was referred to ACCES-VR by his counselor from the Realization Center- an addiction treatment center. He requested training to secure gainful employment.
ACCES-VR provided vocational counseling and an evaluation to determine Gerald's skills and abilities. Based upon evaluation results, two career options were recommended: Commercial Driver License (CDL), and Certified Alcoholism and Substance Abuse Counselor Trainee (CASAC-T).  Initially, Gerald enrolled in CDL training; however, he was not able to complete the program. 
Despite the setback, Gerald did not give up on his goal to obtain employment.  He worked with his ACCES-VR counselor to revise his work goal, and he decided to pursue CASAC-T training at Exponents- a licensed training center which his ACCES-VR counselor agreed to sponsor his education.
Gerald successfully completed the program and obtained employment as a CASAC-T counselor at a residential treatment facility in March 2021.  Gerald stated that is he doing well in his current role and enjoys his work.  However, he would like to advance in his career and was awarded a full scholarship to New York University to pursue a bachelor's degree in Social Work. He began the program in the Fall of 2021!
Gerald stated that he enjoys the job because he is able to assist others that are in situations that he experienced.  He stated that "he is grateful for the assistance that he received from ACCES-VR."
This story was submitted by Cherise Davis
Local Workforce Development and Business Relations Representative
Manhattan District Office
Cherise.Davis@nysed.gov