Melissa... A Successful Work Anniversary
Occupation:
Customer Service Representative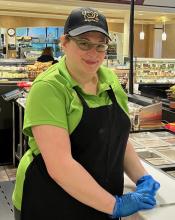 Melissa utilized ACCES-VR services several times in the past and recently had not worked for over 5 years. She was apprehensive about going back to work because she did not know how well she would do and did not want to lose her benefits.
Melissa had an interest in careers in the Art field, but given the limited number of  jobs, her Vocational Rehabilitation Counselor, Carole Jarvie recommended a Career Exploration assessment to assist with identifying strengths, interests, and aptitudes to identify an employment goal. Following the assessment Melissa's employment goal developed to Customer Service.  Melissa also received additional ACCES-VR sponsored services to assist her to receive the support she needed as she moved onto her journey towards employment. She participated in Work Readiness Training, Benefits Advisement and Direct Job Placement services. 
Melissa was hired and first started out in the deli department at Wegmans 45 minutes away by bus; needless to say, it was not the ideal location for her, especially in the winter!  Nevertheless, Melissa continued to work there and moved into a Cashier position after a few months, which she enjoyed and was great at this new position. 
When a position became available at the Wegmans in her community, Melissa put in for a transfer to that store & this reduced her bus ride in half.  Starting out as a cashier in that location, she had a chance to post for a promotion to the Customer Service desk which she recently received – and they LOVE her at her new store!!  She now works 32 hours per week and was cross trained to assist in various departments, with medical and other benefits through her employer.  Melissa absolutely loves her new job and was so proud to celebrate her work anniversary with Wegmans this past year.
This story was submitted by Jennifer Geiger
Local Workforce Development and Business Relations Coordinator
Rochester District Office
Jennifer.geiger@nysed.gov