Richard... If I can contribute to others being successful, I will!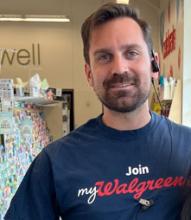 Richard was referred to ACCES-VR in 2008 for transition services from Nyack High School.  The goal was to support his Learning Disability while he explored the steps he needed to take to join the workforce. ACCES-VR assisted Richard with a vocational evaluation to determine his skills and abilities. Our office provided college sponsorship at Rockland Community College. Richard was working on his education when an opportunity at Walgreens came up that would assist him and his family. Richard began his career at Walgreens working as a Photo Technician in 2013. As he was a gifted student of the arts, Richard then moved on to designing displays throughout the store. The Walgreens District Manager met with him, and Richard pitched his ideas about how to reorganize the store. He was offered a manager's position as a result.
Since that first job at Walgreens in Nyack, Richard has managed a number of stores across Rockland County. He parlayed a job into a career because Walgreens has dedicated themselves to creating an environment for employees to excel and they are committed to supporting success.
As a manager, Richard began working with community rehabilitation provider Jawonio to meet their stores' recruitment needs. Jawonio and Walgreens have developed a strong partnership and have now been working together for years. Walgreens has hired job candidates with disabilities, and they have opened their doors to vocational assessments and interns as well. Walgreens has exemplified taking a person-centered approach in assigning job tasks, carving them to match the strengths of the individual, as well as being sensitive to the needs of employees with disabilities with regard to flexible scheduling to meet transportation needs. The environment is one of a team-based approach, rich with collaboration, and openness. Additionally, as a manager, Richard has promoted an atmosphere of mentorship, pairing employees with more seasoned staff who can then impart intrinsic knowledge to other junior employees.
When asked about his management style, Richard said: "I truly believe in paying it forward and if I can contribute, in some small way, to other people being successful, I will."  As a result of his outstanding management, Jawonio nominated Mr. Onderdonk to receive a National Disability Employment Awareness Month award in October of 2022. For a job candidate to become an award-winning manager is a full circle moment.
The Workforce Innovation and Opportunity Act speaks to building a career pathway for those we serve at ACCES-VR. Richard has surely taken the vocational exploration and college sponsorship he received and built an inclusive diverse workplace culture at Walgreens dedicated to fostering success for the next generation.
This story was submitted by Michele P. Green
Local Workforce Development and Business Relations Representative
White Plains District Office
Michele.Green@nysed.gov