Sean... Helping Others
Occupation:
Community Services Specialist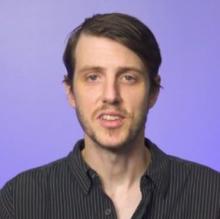 While I was in my long-term treatment facility for a heroin use disorder the idea to start "Room 9", my room number, took root. I would end every evening talking with my roommate about life and all the challenges it likes to bring to our front doorstep.  Eventually I said, halfway kidding, that we should start a podcast, and that's exactly what we did. In fact, the first two episodes of Room 9 were recorded while we were out on pass towards the end of our Rehab stay. Walking into it I had absolutely no experience with recording and editing audio, thank god for YouTube. The podcast slowly started to pick up steam throughout Western New York and I decided to start taking this seriously. I emphasize "I". Most people do not realize what it takes to start a business, especially when you have no idea what you're doing or where to even begin and my roommate wanted nothing to do with that. The only thing I did know is that if there was ever a time to give this a try, it is now. With the help of CEO's from three health insurance providers, I was able to grow the podcast from 15 downloads per episode to almost 1,000 downloads per episode in almost a year. As exciting as that was, I still felt like something was missing.
When you Google "best way to end stigma around mental health & addiction" and you go down the list, website to website, you will find that the number one way to end stigma is to just talk about it. In its essence, my mission, with Room 9, has always been to share the stories of those who need a voice, of those who need a stage to stand on. As much as I love hosting a podcast, I still felt like something was missing. I knew there had to be something more out there. That is when I fell in love with Video Production. Again, I knew nothing about what I was getting into or how I would even obtain the equipment to start. That's when a CEO of a local health insurance provider told me about ACCES-VR. I applied and was accepted into the program. Nicole Tatum, my ACCES-VR counselor referred me to the Small Business Development Center (SBDC) to help me put together a business plan. Once again, I was stepping into territory I knew nothing about. After months of research and meeting with people from the SBDC, I was given an opportunity to present my plan to the Self Employment Committee at ACCES-VR in downtown Buffalo.  The committee must have liked my presentation because I got a call 20 minutes after I left that ACCES-VR would sponsor my business.  ACCES-VR purchased video and audio equipment for Room 9. This equipment was essential in assisting me in growing and expanding the types of services I am now able to offer and provide to my customers.
Up until this point there was no shortage of hurdles I had to climb, but the real challenges all came after that approval phone call. Anyone who starts a business knows it is an emotional rollercoaster ride. One minute you are pumped up and excited and the next you are wondering if anything you are doing is even making a difference. Walking into this, I knew nothing about marketing, filming, editing, branding, building a website; that list goes on and on. What I did know is that I was, for the first time in my life, going in the direction I was supposed to be heading in. Yes, I am putting in 12-14-hour days. Yes, I have no social life, but not one second of this feels like work. I am now working on projects with several companies in the Western New York area and have tripled my income from 2019. I have been featured in "Podcast Business Journal" and obtained my first video project, with no experience, for $5,000. No matter how many bumps I come across, there is no doubt in my mind "Room 9" will continue to grow. I have never had to work so hard to obtain anything in my life, but I have also never been rewarded this much either. I knew when I first started "Room 9" it would remind me every day of my recovery. Every social media post, every podcast interview, and every story I would tell; I knew that it would remind me of the darkness I had to go through to get here. "Room 9" not only helps to keep other people in recovery, but it helps to keep me there as well. I have come so far and have even further to go, but I am helping people. Which, in return, helps me.
This story was submitted by Dennis Martinez
Regional Workforce Development and Business Relations Coordinator
Buffalo District Office
Dennis.Martinez@nysed.gov