Enri… A Successful Transformative Picture
Occupation:
Senior IT Project Manager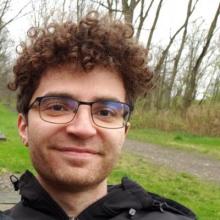 Enri was referred to the ACCES-VR Rochester District Office in 2020 by our Workforce One Stop partner agency, RochesterWorks!
Due to his disability and limitations, Enri needed to make a career change.  His ACCES-VR counselor provided him with counseling and guidance so that he could explore specific industries in which he would feel his skills were being utilized and valued.  This exploration identified Information Technology Project Management as a viable career goal.  With his career goal identified, Enri was in need of support services to obtain his Project Management Professional (PMP) Certification. After earning the PMP certification, ACCES-VR provided him with employment services to assist him with his job search.  It was important for Enri to work at a business that has a community impact.
Enri was hired to work at Kodak in Rochester, NY as a Senior IT Project Manager. Enri stated, "I first and foremost want to thank the wonderful people at ACCES-VR. They have been a positive transformative force and the bedrock of support through my trying times. It's hard to overstate how trying the journey to getting to this moment in time has been. On the outside, all we may see is the finished product, the PMP license. What we may not see are the years of blood, sweat, and tears. Your efforts will not be forgotten. I now have the honor of standing alongside other hardworking, dedicated professionals who set the gold standard for leadership and critical thinking."
This story was submitted by Jennifer Geiger
Local Workforce Development and Business Relations Representative
Rochester District Office
Jennifer.Geiger@nysed.gov