Chris... Essential COVID-19 Tester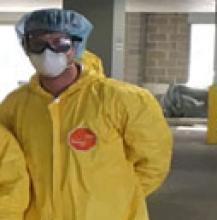 Chris registered for ACCES-VR services in May 2019 when he was referred by a local substance abuse outpatient facility. Prior to working with ACCES-VR, Chris spent over 20 years in the restaurant industry, holding various positions including being a cook. Despite his years of experience, Chris was unsure of what direction he wanted to move towards. After meeting with his VRC Julie Harris, Chris agreed to participate in a vocational assessment to learn about his vocational strengths and possible options for himself. This led Chris to enroll in Hunter Business School's medical assistant program where he excelled, achieving a 4.0 GPA and successfully graduating in early 2020.
In February, Chris was hired at a large healthcare provider located in the Lake Success area. He earns $16/hour and works 40 hours per week.  He was assigned to an internal medicine office as a medical assistant where many of his tasks involved patient physicals and flu shots. On March 10, 2020 he saw his first COVID patient, just as the pandemic was starting to hit. Chris was then self-quarantined for two weeks before his employer moved him to a drive thru COVID testing site in the community where he conducted swab tests in full personal protective equipment. From the testing site he then went to an urgent care facility where he continued to screen COVID patients. He has since returned to his role in the internal medicine office where he remains happily employed.
When asked how he felt during this difficult time, which was the height of the pandemic, Chris stated he "loved it" and felt that he thrived in that type of environment.  Chris feels that his many years of multi-tasking and jumping into different roles in the restaurant industry helped him prepare for this type of event, and overall, he feels that this was a real learning experience. Chris's positive attitude and strong work ethic as an essential worker on the front lines of the pandemic is quite remarkable. He is a genuine success story. 
This story was submitted by Lorie Boyd
Regional Workforce Development and Business Relations Coordinator
Garden City District Office
Lorie.Boyd@nysed.gov