Felito... Triumphing Challenges and Changing Lives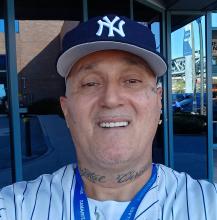 Felito came to ACCES-VR from Samaritan Village's Residential MTAR Treatment program. He has faced tough challenges in his life, having grown up with drug use in his family, succumbing to it himself and falling in with the wrong crowd resulting in a legal history. He has never given up though. Felito shared that when he entered the prison system, he had a 2nd grade reading level and a1st grade math level, but on August 2006, he was able to obtain his GED with two perfect scores of 800 and completed his prison term.
Felito was open and spoke clearly about his vocational wants and needs to VRC Arce-Herasme. He lost his most recent work in maintenance/construction due to relapse resulting from "chasing the money" and isolating. Felito continues to work on maintaining his sobriety so that he can assist the youth with "staying away from drugs."
During his Diagnostic Vocational Evaluation (DVE), it was stated that Felito was the "shining star" due to being very attentive, focused on completing his tasks, quick to participate, respectful of his peers, receptive to guidance and advice, punctual, very optimistic, and helpful to others.
His original goal was to enroll in a Credentialed Alcoholism and Substance Abuse Counselor (CASAC) training program to become a Substance Abuse Counselor, but after various conversations with Employment Programs for Recovering Alcoholics (EPRA) staff about his strengths and limitations and his immediate goals, he understood that training in Certified Recovery Peer Advocate (CRPA) would be a stepping-stone for him to achieve his financial and career goals. Felito was "very receptive" to the idea of moving forward in the direction of CRPA and demonstrated his motivation by identifying training schools of interest.
Throughout his 11-week training Felito kept in regular contact with VRC Arce-Herasme. In one such interchange he had called to say he was doing well and networking with Recoveries R Us. He indicated how happy he was with his training and how he was studying a lot to pass all his exams. "I'm like a sponge, I have a new zest on life." Felito completed his CRPA training in July and had already started interviewing for positions.
He was able to secure employment as a Peer Advocate at Samaritan Village's Briarwood location where he works 40 hours per week and earns $769.20 weekly. He works with the treatment team to provide community-based support with a rehabilitation and recovery focus using shared lived experiences. He also provides individual face to face services in an individual and group- based setting. He receives medical and retirement benefits from his employer. He is now providing supports to individuals as a peer role model and a trained professional of the field.
Felito was provided with counseling and guidance supports throughout his experience with ACCES-VR from exploration of his vocational passion to transition towards employment success, maintaining recovery and gaining financial independence. He received ACCES-VR sponsorship for the Diagnostic Vocational Evaluation which identified his strengths, interests and service needs as well as Certified Recovery Peer Advocate training with Recoveries R Us.  
Felito is doing really well. He is renting a studio apartment for $1,000/month, going to the gym, and has lost 34 pounds, is taking better care of his health and is enjoying his job to the fullest. Felito has been working and feels "blessed" that he has been able to do this. He took his CRPA exam in March and has signed up for continuing education courses to help strengthen his peer recovery skills. He has been living in his apartment for the past 4 months and has a stronger relationship with his daughters and grandsons. He recently put in a proposal for a new group called Perceptions vs Reality and the group has been doing well; even the Director of the program sat in and told him how well the group was run.
This story was submitted by Felicia Hang-Chou
Local Workforce Development and Business Relations Representative
Queens District Office
Felicia.Hang-Chou@nysed.gov